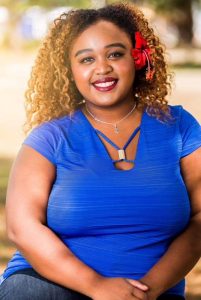 Workplace Assistant – Leelynn Brady
Leelynn is very excited to join the staff of Aloha Independent Living Hawaii (AILH) as a Workplace Assistant.  Her first experience working with people with disabilities was during her childhood when she volunteered at Hawaii Centers for Independent Living (HCIL).  She regularly assisted with charity golf tournaments, office events, and other efforts throughout HCIL.  Having several family members with disabilities, she has been a strong advocate and supporter of agencies throughout the community who serve individuals with disabilities.  Currently living in Virginia, Leelynn hopes to provide the best assistance to Advocacy Coordinator, Brian Hauser and also contribute positively to the AILH team.
In addition to her work with AILH, Leelynn is the Executive Assistant for the President/CEO of VisitNorfolk. She also sits as a current Board Member for the Virginia Statewide Independent Living Council, is the Advocacy Co-Chair of the Urban League of Hampton Roads Young Professionals, and the 1st Vice President, Advocacy Chair, and Development/Fundraising Chair of the League of Women Voters-South Hampton Roads. She is also actively involved in the Diversity, Equity, and Inclusion Committee and New Member Task Force for the League of Women Voters of Virginia. She is a graduate of the Certificate of Advocacy Program Class of Spring 2020 with the National Urban League. She is also the Founder and President of Publicity of Hear Our Voices Book Tours, where their focus is providing #ownvoices BIPOC reviewers access to novels that represent their identities and culture. She serves as a mentor through EnvisionLeadGrow, and is a protegee with the Senior Executive Association-Young Government Leaders Mentoring Program.
.