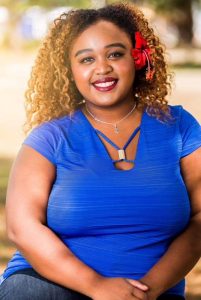 Workplace Assistant – Leelynn Brady
Leelynn is very excited to join the staff of Aloha Independent Living Hawaii (AILH) as a Workplace Assistant.  Her first experience working with people with disabilities was during her childhood when she volunteered at Hawaii Centers for Independent Living (HCIL).  She regularly assisted with charity golf tournaments, office events, and other efforts throughout HCIL.  Having several family members with disabilities, she has been a strong advocate and supporter of agencies throughout the community who serve individuals with disabilities.  Currently living in Virginia, Leelynn hopes to provide the best assistance to Advocacy Coordinator, Brian Hauser and also contribute positively to the AILH team.
Leelynn has extensive work experience, including Administrative Assistant for a private law office in Guam and Administrative Clerk for LSG Sky Chefs, where she was in charge of all outside catering sales for the company.  She is currently working on her Bachelor's Degree in Criminal Justice at the University of Maryland University College, and hopes to one day work for the United States Department of State.