Molokai IL Specialist, Luana Agliam is happy to service the island of Molokai.  If you or someone you know is an individual with a disability and in need of assistance, please have them contact our office.
---
Molokai Contact Information
P.O. Box 1211
Kaunakakai, HI 96748
808-866-3792
---
Molokai Hours of Operation
Monday – Friday
9:00 a.m. – 2:00 p.m.
---
Molokai Supp

ort Groups
Na Keiki O Molokai for ages: 5-18 years old
Na Keiki o Molokai meets 2nd Friday of every month at parks, community pool and other recreational halls on Molokai. We have activities available, and we do social recreational practices. For more information, please contact Luana Agliam at (808) 866-3792.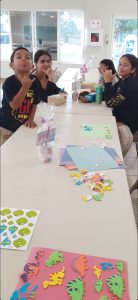 Na Kupuna O Molokai
Na Kupuna O Molokai meets on the 3rd Friday of every month at Home Pumehana from 2pm-3pm. We offer hands-on arts and crafts and other skills for our kupuna like sewing, and other social activities that the group chooses.
---
Funding for all AILH support groups is provided by Friends of Hawaii Charities and the Visitor Industry Charity Walk.
Over 1 Million Raised for Local Charities – Read More.
---
Molokai Staff