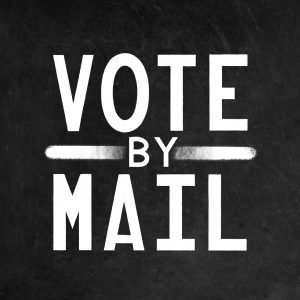 Vote by Mail – 5 Things to Know About Voting by Mail
By: Office of Elections
The Office of Elections' mission is to provide secure, accessible, and convenient elections to all citizens statewide.
As the 2020 General Election approaches, there are a few things you should know about casting your ballot by mail for the November 3 General Election.
There will be no traditional polling places established. Do not go to your polling place on Election Day. As a registered voter, you will automatically receive your ballot in the mail.
Verify your voter registration record. To ensure you will receive your ballot in the mail, check your voter registration status online at elections.hawaii.gov by logging in with your Hawaii Driver License or Hawaii State ID, or by calling your County Elections Division. By law, ballots cannot be forwarded through the mail, so if you have moved or changed your mailing address or name, you must update your voter registration. This can also be done online or by submitting a paper Voter Registration Application. The deadline to register for the General Election is October 5.
Voting your ballot. You can expect to receive your ballot by October 16 for the General Election. Your ballot packet will include a personalized postage-paid return envelope, ballot secrecy sleeve, and ballot. Read the instructions, mark your ballot with a blue or black pen, seal it in your return envelope, and sign the envelope. The return envelope must be signed for the ballot to be counted.
Returning your ballot. Voted ballots can be returned by mail or dropped off at a voter service center or place of deposit. If you are returning your ballot by mail, you should do so by October 27. After October 27, you should drop off your ballot to a place of deposit in your county. All voted ballots must be received by 7:00 pm on Election Day November 3. Visit the Voter Service Centers and Places of Deposit page for location details.
Track your ballot. You may check the status of your ballot, including whether it has been created, received, and validated by visiting elections.hawaii.gov or by calling your County Elections Division. Visit the County Elections Divisions page for the phone numbers to the respective County offices.
During these uncertain times, we encourage you to vote safe. Your mailbox is your ballot box. To learn more about voting by mail, or to check your voter registration, visit elections.hawaii.gov or contact the Office of Elections at (808) 453-VOTE (8683).
Voter Assistance – Tips to consider for voters that may need assistance
Voter Assistance
Any voter who requires assistance to vote by reason of physical, visual, hearing impairment, or inability to read or write, may be given assistance by a person of the voter's choice, other than the voter's employer, an agent of the voter's employer, or officer or agent of the voter's union or a candidate.  
Voter Service Centers
Voter service centers will be open 10 business days prior to the election and on Election Day, to provide accessible in-person voting, same day voter registration, and collection of voted ballots.  The voter service centers will have accessible voting machines which provide non-visual access to the ballot information.  Visit the Voter Service Centers and Places of Deposit page for location details.
Alternate Format Ballots
Alternate format ballots (AFB) are available to (1) voters with special needs, (2) covered voters under the Uniform Military and Overseas Voter Act, (3) voters who have not received their ballot package by the fifth day before the date of the election, and (4) voters who otherwise require a replacement ballot within five days of an election.
The AFB will be electronically transmitted to voters who can vote the ballot using any compatible device.  Voters using this option must contact their County Elections Division, download their ballot packet to a computer, print their marked ballot, sign the secrecy waiver and affirmation statement, and finally return the ballot it to their County Elections Division.  Ballots must be received by 7:00 PM on Election Day.  
Contact information for the County Elections Division listed below:
City and County of Honolulu
(808) 768-3800
County of Hawaii
(808) 961-8277
County of Kauai 
(808) 241-4800
County of Maui
(808) 270-7749