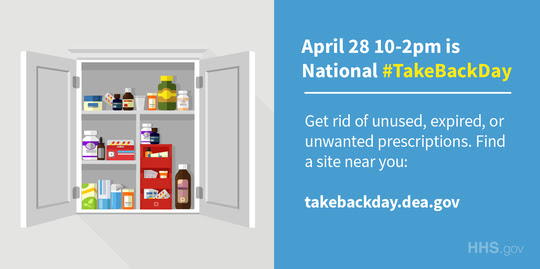 April 28 is National Prescription Drug Take Back Day. Too often, unused prescription drugs find their way into the wrong hands. Unfortunately, prescription drugs can be just as dangerous as street drugs when taken without a prescription or a doctor's supervision.
National Prescription Drug Take Back Day helps by providing a safe and anonymous place where people can turn in their unused prescription drugs.
Clean out your medicine cabinets and keep prescription drugs safe. According to the 2015 National Survey on Drug Use and Health, 6.4 million Americans abused controlled prescription drugs. The study shows that a majority of abused prescription drugs were obtained from family and friends, often from the home medicine cabinet. Proper disposal of unused drugs saves lives.
Visit DEATakeBack.com to learn more and find a collection site near you.