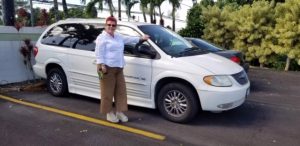 Pat Sanford's late husband, John Henzel had a great sense of humor and lived joyfully and purposefully as an inspiration to all who were blessed to know him.  John passed away peacefully surrounded by family at his home in Waikoloa, Hawaii at the age of 88.
In honor of John's wishes to always pay it forward, Pat has generously donated most of John's equipment and even an adapted van to AILH for us to lend out to consumers in need.  We are humbled and grateful for these generous gifts and will endeavor to continually utilize the items in order to maximize ongoing support to individuals in need of such vital independent living tools.
John Thomas Henzel
John T. Henzel, a Downey CA resident for 42 years, passed away peacefully surrounded by family on December 8, 2017 at his home in Waikoloa, Hawaii.  He was 88.
Born in Irvington, New Jersey to Stanley and Helen [Scrupski] Henzel on April 11, 1929, John was a retired business executive who held senior positions with New York and California based publishing companies.  John was an amazing, strong and courageous man with an unfailing spirit and great sense of humor. He joyfully and purposefully lived each day, encouraging and inspiring a wide circle of family, friends, business colleagues and youth throughout his lifetime.  John was a proud founder and served on the executive board of The Association of Catholic Student Councils (TACSC), a non-profit organization committed to developing leadership skills among Catholic school K-12 students nationwide.
John is survived by his beloved wife of 44 years, Pat Sanford, of Waikoloa, HI; daughters Susan (Kevin) Pestano of Pahala, HI and Theresa (Frank) Hutchinson of Junction City, CA; two granddaughters (Jessica Carol and Nichole Helen Hutchinson); daughter in law Marla Henzel (Yucca Valley, CA); numerous nieces, nephews, great nieces and nephews, step-grand and step-great grandchildren, cousins and other family members, stretching from New Jersey to California, Hawaii and beyond, who treasured John. His son, John Jr., preceded him in death.
Family and friends celebrated John's life during a Funeral Mass at Ascension Catholic Church, Puako, Hawaii, December 31, 2017 and at a family distribution of ashes, Punalu'u Black Sand Beach, Hawaii, January 7, 2018.  A celebration of John's life will continue at the family's Downey, CA home on February 11, 2018.
John would want us to remember him with a smile, and to all "shine on." In his honor, a John Henzel Scholarship Fund has been established by TACSC to continue John's legacy and help fund deserving students attendance at future TACSC leadership conferences. Contributions to TACSC, including credit card donations, may be made online at https://tacsc.org/be-the-change.  Please note in the gift message box "the John Henzel Scholarship Fund" or write that on the memo line of checks to TACSC.  The TACSC mailing address is The Association of Catholic Student Councils, 530 S. Lake Ave, Suite 889, Pasadena, CA, 91101.
May perpetual light shine upon him …
Aloha, Dearest John