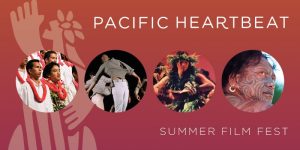 (Honolulu) – Pacific Islanders in Communications (PIC) announced today a line-up of films for their Pacific Heartbeat Summer Film Fest. Four unique titles from PIC's catalogue will be posted to YouTube with universal access—on four consecutive Wednesdays beginning August 19th.
The films, which explore the arts and culture of Hawai'i, New Zealand, Samoa, and beyond, will be accompanied by an activity guide and social media outreach that invite viewers to explore the Pacific Islands without the need for travel.
"In this time of pandemic when nearly everyone is avoiding travel and unnecessary exposure, we are thrilled to offer our Pacific Heartbeat Summer Film Fest  on YouTube, where everyone can join a cultural and cinematic exploration of the Pacific Islands right from their homes—or even their phones," said Leanne Ferrer, Executive Director of Pacific Islanders in Communications.
All films will be available on Pacific Heartbeat's YouTube Channel, here:  https://www.youtube.com/user/PacificHeartbeat
The festival is a project of Pacific Heartbeat, a pubic media anthology series that provides viewers a glimpse of the real Pacific—its people, cultures, languages, music, and contemporary issues. From revealing exposés to rousing musical performances, the series features a diverse array of programs that will draw viewers into the heart and soul of Pacific Island culture.
The summer film festival builds on PIC's work in May and June to make more titles available online via its primary PBS portal. "We have been working double-time to make more content available to viewers online, and the ability to place full-length films on YouTube definitely allows us to expand our audience beyond PBS," added Cheryl Hirasa, PIC's Vice President and Managing Director.
August 19: One Voice  |  Watch Trailer
[click for images and assets]
One Voice  tells the story of the Kamehameha Schools Song Contest through the eyes of the student song directors. Every year in Hawai'i, 2000 high school students compete in the Kamehameha Schools Song Contest where young leaders direct their peers in singing Hawaiian music in four-part harmony. The Contest is a unique cultural celebration that has become a major local event, broadcast live on TV, played on the radio, and streamed on the Internet. One Voice shares the thrill of the competition via the personal stories of the student song directors as they experience the trials and tribulations of competition in this annual high school event. Following the elected student song directors, the audience sees how the tradition creates an indelible experience that builds class unity, instills cultural pride, and builds character.
August 26: Black Grace  |  Watch Trailer
[click for images and assets]
When Black Grace, a dance troupe of Pacific Islander and Maori men, first burst onto the New Zealand stage in 1995, they were a revelation. Fusing traditional Pacific and contemporary dance forms with athleticism and grace, they electrified audiences. Led by Artistic Director Neil Ieremia, Black Grace evolved from a crew of Neil's "mates" into one of New Zealand's national treasures and conquered the world's dance festivals, culminating with Jacob's Pillow Dance Festival in the Berkshire Hills of Massachusetts. This film follows Black Grace's journey from Cannon's Creek, a small town outside of Wellington, New Zealand to the prestigious Jacob's Pillow Dance Festival, the oldest one of its kind in North America.
September 2: Holo Mai Pele  |  Watch Trailer
 [click for images and assets]
Holo Mai Pele (Pele Travels) tells the epic saga of the rivalry between Pelehonuamea, goddess of the volcano, and her youngest and favorite sister Hi'iaka. The one-hour performance weaves together archetypal themes of creation, love, and betrayal into a sweeping dramatic presentation. For the first time, a rare legacy of chants and dances as passed down through generations is presented by the Kumu Hula and performers of Halau o Kekuhi, in a stunning and exciting adaptation for Dance in America.
September 9: Skin Stories  |  Watch Trailer                        
[click for images and assets]
Tracing back more than 2,000 years to the Pacific Islands, tattoo is an ancient art form that began as a rite of passage for Polynesians and has become a form of expression for people worldwide. Featuring traditional tattooing ceremonies, compelling interviews, and a breathtaking collection of tattoo body art, Skin Stories traces the roots of tattoo in the Pacific. From the steaming landscape of Rotorua in New Zealand to the vibrant gathering of the first international tattoo convention in Apia, Samoa; from the terraced, lush taro fields of Maui and golden beaches of Oʻahu, Hawaiʻi, to the California Coast, this film is an anthology of stories and stunning images that highlight the evolution of cultural traditions in the Pacific.  First aired on PBS in 2003, Skin Stories unearths the personal stories of transformation, both from the tattoo masters and those who receive the marks.