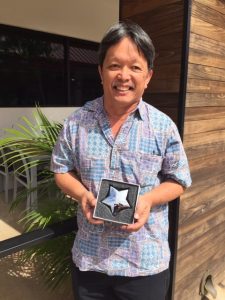 Tom has worked for over eight years at Lanakila Rehabilitation Center Inc. During his time there, he was responsible for training and monitoring peoples with disabilities, along with coordinating with different social workers, parents and guardians in making plans to prepare and train them to gain work experience and social skills. One of Tom's fondest moments was assisting a consumer who is visually impaired to learn how to weave a hula skirt.
He was asked to take this challenge and wholeheartedly embraced it as he came up with a solution of videotaping himself weaving the skirt and sharing it with the consumer's mother so that the consumer can continue his lesson at home. He also provided training to other staff members in Lanakila. Tom has been with AILH since August of 2009.
He has facilitated our recreational support group for young adults with disabilities living on the North Shore and Waianae Coast. Currently his time is spent providing much needed housing assistance for our consumers on Oahu who are homeless, transitioning from a shelter or have received eviction notices.