It sure was a full agenda at the Maui Vision Impairment and Blindness Education and Peer Support Group meeting on April 25th. To begin the meeting, group members made generous donations in support of the AILH Maui team who will be participating in the Charity Walk on May 12th. The group then discussed the upcoming prescription drug take back program on April 28th and the opening of the Maui County Section 8 Housing Choice Voucher waitlist. Brian Hauser, AILH Advocacy Coordinator, shared about audio description available at all Maui movie theaters and Kathleen led a discussion about clothing management – how to identify colors of clothing and select matching outfits when your vision isn't reliable. Many great ideas were shared by members!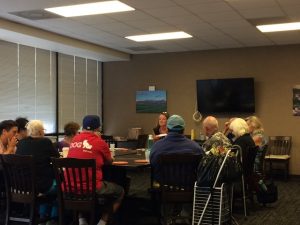 As the meeting came to a close the group said a hui ho to Cornelis ("Cor") Feenstra who will be moving to the mainland next month. Cor has been a huge promoter of both the Vision Impairment group and the services of AILH. He will be sorely missed by all! It was also Cor's birthday last week so celebratory cupcakes ended the meeting on a sweet note! He even serenaded the group with Happy Birthday in his native language, Dutch!
This group meets the last Wednesday of every month in Kahului. Please contact Kathleen for more information: (808) 866-4690 /
[email protected]

.