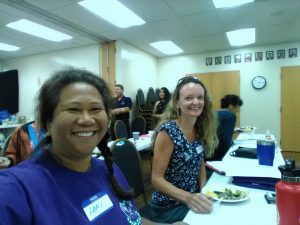 Kathleen and Lani attended the Maui Food Bank Annual Meeting on Monday, June 3rd. Each year, the Maui Food Bank educates their attendees on healthier food choices for Foodbank consumers, while also providing samples of plant base recipes.
The food bank accepts dry goods, canned goods, refrigerated items, frozen foods, fresh produce and prepared food items. We collect quality, safe, and nutritious un-served prepared food and baked goods.
Fresh produce is something that everyone should have access to. We are able to pick up from farms and markets and deliver the fresh fruits and vegetables to our participating agencies on the same day. Many local farmers choose to bring their fresh produce donations to the food bank, where we can store it in commercial refrigerators.