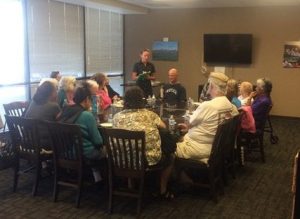 The Maui Vision Impairment and Blindness Education and Support (VIBES) Group held their monthly meeting on Wednesday, November 28, 2018. The guest speaker was Ralph Council. After 60+ years living in California, Ralph recently moved to Maui. He is an avid kite and drone flyer. Back in California he frequently rode his bike around his neighborhood. Ralph was born without eyes or optic nerves, but this has not stopped him! Ralph shared about his fascinating hobbies and his techniques for independence. The group really enjoyed Ralph's personal stories and wonderful sense of humor.
To find out more about the VIBES Group please contact IL Specialist Kathleen Kenney by
email

[email protected]
or by phone 808 866 4690.