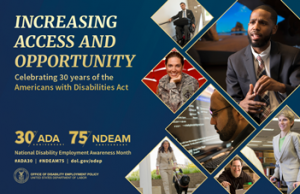 Today we celebrate the start of National Disability Employment Awareness Month (NDEAM) and recognize the often overlooked talents that people with disabilities bring to the workforce.
This is a year of milestone anniversaries for the disability community as we celebrate 30 years of the Americans with Disabilities Act and 75 years of NDEAM. This year's NDEAM theme, "increasing access and opportunity," reflects the impact of these two milestones.
The U.S. Department of Labor's Office of Disability Employment Policy offers a range of resources to help employers and organizations plan NDEAM observances, including a poster; social media content; activity ideas for each day of the month; and sample articles, press release, and proclamation.
We hope you will take advantage of these resources and join us in celebrating the importance of competitive, integrated employment in the lives of people with disabilities.
Stay tuned for more from ACL throughout the month.