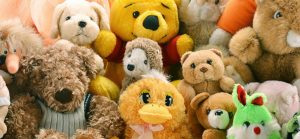 AILH is joining Bayada Home Health Care in gathering as many stuffed animals as we can for the Hilo, Keaau, and Pahoa Police Stations.
Police officers from these stations carry a box of stuffed animals in their cars and when they arrive at a difficult call where children are involved, they give each child a stuffed animal as a simple gesture to comfort them.
We will be accepting (new or gently used) stuffed animals at:
Aloha Independent Living Hawaii – Hilo Office
1055 Kino`ole Street, Unit 202
Hilo, HI 96720
Monday – Friday
9:00 a.m. – 4:00 p.m.
This drive will run from October 3 – December 9, 2016.  Please share your aloha with our local keiki!  For more information, please contact Emily Bartlett-Henry at (808) 987-6088.