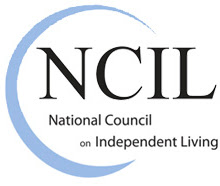 AILH joins NCIL in paying our respects and utmost gratitude on this National Day of Mourning for former late President George H.W. Bush.
NCIL Statement on the Passing of President George H.W. Bush
The National Council on Independent Living mourns the passing of former President George H.W. Bush. He died on Friday, November 30, 2018, at the age of 94.
On July 26, 1990, President Bush signed the Americans with Disabilities Act, which solidified into law the civil rights of people with disabilities in the U.S. At the signing ceremony, the words he spoke became words often repeated in our community to symbolize the significance of the law's passage: "Let the shameful wall of exclusion finally come tumbling down." Read full remarks.
NCIL Executive Director Kelly Buckland said, "President Bush didn't simply sign a historic piece of legislation. The ADA passed with strong, bipartisan support under – and in part because of – his strong, ongoing leadership." In 2015, President Bush listed the ADA among his proudest achievements as President, saying, "It's something I'm very proud of – perhaps proudest of when I was President."
NCIL mourns the loss of President Bush, whose contributions and commitment to the civil rights of Americans with disabilities will not be forgotten.
After lying in state for two days at the Capitol Building, a funeral service will be held for President Bush in Washington today (Wednesday) at 11:00 a.m. Eastern at the National Cathedral. Today will be a national day of mourning and the federal government will be closed. After today's funeral, he will be flown back to Texas and interred on Thursday. Details about both the DC and Texas services and ceremonies can be found on the official schedule (PDF). Several news networks will be covering the services Wednesday and Thursday, including PBS stations nationwide and C-SPAN online. We encourage you to attend these events and tune in remotely to show your gratitude for his signing of and commitment to the ADA and people with disabilities.