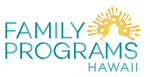 Our Windward Online Support Group is approaching on October 2, 2020. Please help us spread the word to your resource families and encourage them to attend. We will be offering supportive discussion to resource families on the topic of "Grief and Loss".
Please see the attached flyer for more details.
Windward Support Group:
Friday, October 2, 2020
6:30 pm – 8:30 pm
Zoom Web-Conference 
RSVP by 09/30/2020
Families can also register at this link: https://tinyurl.com/FPH1002 Please direct families to RSVP by RSVP with the Warm Line at 1-808-545-1130 or email [email protected] to register and receive a follow-up email with instructions on how to join the online group. Please leave your name, contact number, and whether you are a resource, adoptive, guardianship, permanency, or kinship family. Groups are open to resource, guardianship, adoptive, permanency, and kinship families only.
Some benefits of attending support groups:
*Avenue to meet and connect with other resource families through shared experiences and stories
*Provides a safe space for families to give and receive support and understanding
*One hour of DHS-approved training for new families who attend for the first time
For more information, like us at www.facebook.com/FPH.RFSS for upcoming trainings, support groups, events, and more!