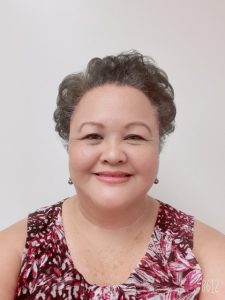 Roxanne is the Executive Director and one of the original founders of AILH. She is a sibling to two brothers who were born with an intellectual disability and two other brothers who became disabled as a result of serving in the military.  Additionally, her late father had many age related disabilities. Currently, she is caring for her mother who is in her late 80's with limited mobility and is hard of hearing and her brother who is 67 years old with an intellectual disability and injuries from a fall. Along with her administrative duties, she occasionally assists with direct services to consumers on Oahu. Aside from her professional career, Roxanne is a loving and devoted mother to her two children, Leelynn and RayGil.
A graduate of Hawaii Pacific University with a degree in Psychology, Roxanne began her career in the independent living field in 1992 where she worked as a student intern at Hawaii Centers for Independent Living (HCIL). She was later hired as an Outreach IL Specialist, where she covered the Leeward and North Shore areas of Oahu. She was then promoted to Outreach Director where she assisted former Executive Director, Mark Obatake, with the creation and hiring of staff for the Guam and Commonwealth of the Northern Mariana Islands (CNMI) Centers of Independent Living.
Under new management, Roxanne became the Special Programs Coordinator as the Liaison for the San Diego State University's (SDSU) Rehabilitation Community Educational Program (RCEP) and the Coordinator for the National Technical Assistance Center (NTAC) for Asian Americans and Pacific Islanders for Employment.
After leaving HCIL in late 2004, Roxanne was contracted by Independent Living Waipahu, Incorporated (ILW, Inc.) as the Project Coordinator, where she raised thousands of dollars in fundraising efforts and helped to bring public awareness to Hawaii's first technically enhanced, accessible environment for persons with significant physical disabilities.
Roxanne's community involvement include her appointment to the Mayor's Advisory Committee for Disabilities under former Mayor Peter Carlisle, past Board Chair for Hawaii Fi-do Service Dogs, past board Treasurer for Independent Living Waipahu, Inc. current board member of the Honolulu Community Action Program (HCAP) where she sits on the Program Planning and Evaluation Committee, Marketing Committee, and Governance Committee, (past member of the Financial Committee), current member and former board Vice Chair for the Statewide Council of Independent Living, current member of the DOH Neurotrauma Program's Strategic Plan Subcommittee for FY21-23, former committee member for the Dept. of Transportation's Committee for Accessible Transportation and one of the founders for the Hawaii Disability and Healthcare Coalition. She was the former the Site Liaison for ILW, Inc. for ten years and is a proud Weinberg Fellow, having graduated from the Weinberg Fellows Program for Executive Directors of Non-Profits in 2011.