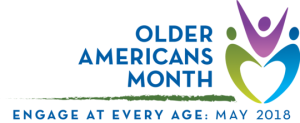 Every May, our nation observes Older Americans Month. In proclaiming May Older Americans Month , President Donald J. Trump stated:
"During Older Americans Month, we recognize and celebrate those Americans who have spent decades providing for the next generation and building the greatness of our Nation. Our country and our communities are strong today because of the care and dedication of our elders. Their unique perspectives and experiences have endowed us with valuable wisdom and guidance, and we commit to learning from them and ensuring their safety and comfort."
Here at AILH, we value and appreciate our kupuna who serve as active members of our staff and volunteers.  Please join us in sharing our gratitude and utmost respect for the Older Americans serving right alongside with us.