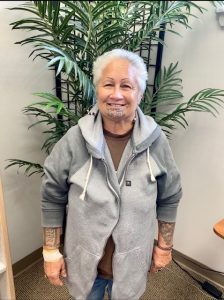 Zora "Zodie" Shove, was born in West Point, NY to a Native Hawaiian mother and a Native American father.  She "returned" to Hawaii 35 years ago and is currently enjoying her retirement years, continuing to serve her family and community.
Zodie's premature birth and related complications resulted in her permanent hearing loss.  As a child growing up in an era that was unfamiliar with disabilities and unable to provide proper accommodations, she struggled through the education system.  However, through her own perseverance, she was able to graduate from high school with her class and later attend Beauty School.
Zodie is a mother of six children and a proud grandmother of 19 grandchildren.  She enjoys teaching her family ASL in order for them to communicate not only with her, but with other Deaf and hard of hearing people.
Zodie looks forward to sharing her mana`o and unique perspective as a member of the AILH Board of Directors.  Her personal experiences have given her an empathetic voice to encourage others who are dealing with their disabilities and the hardships and frustrations that often accompany them. Her humble spirit and genuine heart is a welcome addition the AILH Board.