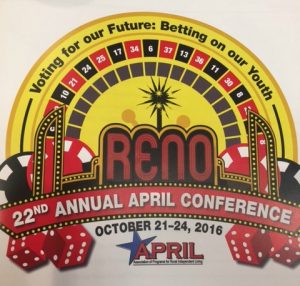 The Association of Programs for Rural Independent Living (APRIL) held their 22nd Annual Conference in Reno, NV on October 21-24, 2016 and AILH was there!  This year's theme was "Voting for Our Future: Betting on Our Youth," which emphasized the need to put Youth at the forefront of our organizations.  Industry experts, government officials, and youth themselves, gathered at the Grand Sierra Resort and Casino to collaborate and glean knowledge from one another.
Executive Director, Roxanne Bolden, and Maui IL Specialist, Lani Cabanilla soaked in a wealth of knowledge as well as shared ideas and experiences of IL services in Hawaii.  It was a meaningful experience to convene with other IL Centers across the states and be recharged and encouraged by one another to continue the work of providing quality IL programs and services to our consumers.
Bob Williams, Deputy Commissioner of the Administration on Disability in the Administration for Community Living (ACL) within the US Department of Health and Human Services. He also serves as the Director of Independent Living Administration within the Administration on Disability.
Executive Director, Roxanne Bolden, and Maui IL Specialist, Lani Cabanilla enjoying the APRIL Conference