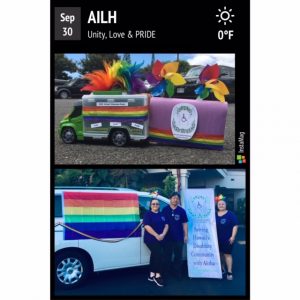 With the current conditions of the Covid pandemic, Honolulu Pride is celebrated virtually this year on Saturday, October 17th with a live video stream at 7 PM hosted by Candy Shell and DJ George.  The program will include a tiny float parade featuring many different organizations who want to join in the fun!
AILH submitted their tiny float in continuous support for the LGBTQ+ community.  We believe in diversity and inclusivity and welcome anyone with a disability who needs assistance.
Aside from creating the tiny float, the Oahu staff had a little fun and decorated Oahu IL Specialist Tom Lum's van.