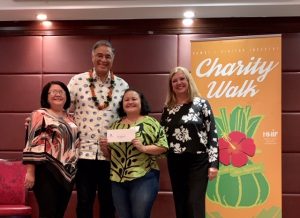 The 41st Annual Visitor Industry Charity Walk "A Tradition of Giving" was a success, celebrating another year of partnership and community giving!
On July 31st, at the Jade Dynasty Seafood Restaurant, Executive Director, Roxanne Bolden and Executive Assistant, Zee Cruz-Stanley, attended the Mahalo Party and Allocations Event to receive the funding for AILH.
Mahalo to the Hawaii Lodging & Tourism Association who make these granting opportunities available to the many nonprofits who help their communities.  Additionally, we thank our supporters who came out to participate in the walk on behalf of our agency.  All proceeds from this grant benefit our peer support groups.