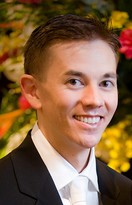 Scott C. Suzuki graduated in the top tier of his class from the William S. Richardson School of Law at the University of Hawaii in 2004. Simultaneously, Scott graduated with a 4.0 grade point average from the John A. Burns School of Medicine at the University of Hawaii with a Master of Public Health (M.P.H.) degree in gerontology. Scott has been in private practice since his graduation.
Scott continues to be active at the University of Hawaii as a volunteer attorney at the University of Hawaii Elder Law Program (UHELP). Through UHELP, Scott has assisted Professor James H. Pietsch provide free legal assistance to seniors residing on Oahu, given lectures for the Elder Law Courses, advised students in the Elder Law Clinic, and has helped research recent developments in elder law.
Scott is also an advocate for populations with special needs. Scott is Hawaii's only member of the Special Needs Alliance (www.specialneedsalliance.com). The Special Needs Alliance is a national, non-profit organization consisting of some of the most credentialed public benefits and disability law attorneys in the country, committed to helping individuals with disabilities, their families, and the professionals who represent them. Scott was recently elected to the National Board of Directors of the Special Needs Alliance and is currently also serving as the Chair of Programs.
In private practice, Scott has represented a wide variety of clients with a broad range of legal concerns. In addition to Medicaid and public benefit planning, Scott has also represented many clients with guardianships, conservatorships, probates, and contested estates.
Scott enjoys volunteering as a coach for the Special Olympics in his spare time and spending time with his family.  Go Back.
Professional & Community Affiliations :
Hawaii State Bar Association, Member & Fellow of the Leadership Institute
University of Hawaii Elder Law Program
National Board Member of Special Needs Alliance (Hawaii's only member by invitation only)
Board Member of Family Voices
Board Member of Aloha Independent Living of Hawaii
Board Member of Hawaii FIDO