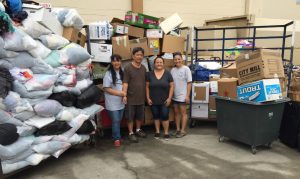 AILH Oahu recently partnered with Savers, a global thrift organization, to help our Oahu friends and families clean out their closets.  We collected used clothes and household items and participated in Savers' FUNDrive community collection program which pays non-profit organizations for every pound of goods donated.
We proudly delivered, 1122 pounds of soft goods (clothing, shoes, purses etc.) and 1534 pounds of hard goods (household items, books, accessories etc.) to our local Savers store and await the proceeds of our bounty.
Mahalo to all those who generously donated to our Savers Drive!