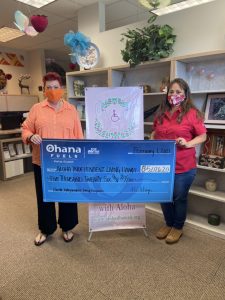 AILH is happy to have been chosen by Hawaii Petroleum to be a recipient of their Ohana Fuels "Fuel up. Do good." Community Giving Program. The mission of Ohana Fuels' Giving Program is to help meet the needs of the communities we serve by supporting local nonprofit organizations that improve the overall quality of life, strengthens our communities, supports education, and protects and benefits our keiki.
AILH's mission is to provide Independent Living Services and programs for persons with disabilities throughout Hawaii. Funds received will be used to help our consumers on the island of Hawai'i.
Pictured are Sam Nagasawa, AILH IL Program Director, and Joy Madriaga, Hawaii Petroleum Senior Account Manager.