PRESS RELEASE
MAYOR KIRK CALDWELL
DEPARTMENT OF COMMUNITY SERVICES
CITY AND COUNTY OF HONOLULU
FOR IMMEDIATE RELEASE
Friday, June 26, 2020
Keola Fisher: 768-7754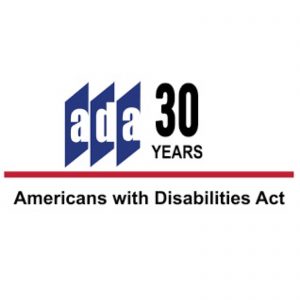 HONOLULU – Mayor Kirk Caldwell requested Honolulu Hale be illuminated red, white, and blue over the weekend starting on Friday, June 26, in recognition of the 30th Anniversary of the Americans with Disabilities Act (ADA) of 1990.
"All citizens with disabilities strive for independence and respect, and they wish to do so with a sense of integrity and purpose," said Mayor Caldwell. "We will always show an unwavering commitment to help further compliance of the ADA and other federal and local disability-related laws impacting Oʻahu residents."
This year marks the 30th Anniversary of a major milestone in our nation's history—the signing of the Americans with Disabilities Act on July 26, 1990 which was enacted to ensure a more inclusive United States. Since its passage in 1990, this landmark legislation has expanded opportunities for Americans with disabilities by reducing barriers, changing perceptions, and championing for full participation in community life and the workplace.
"The ADA has been instrumental in expanding opportunities for Oʻahu residents with disabilities by facilitating access in employment, transportation, public accommodations, communication and access to services, programs, and activities for everyone in our community," said City and County of Honolulu ADA Program Manager, Mona Higa.
—PAU—
The City & County of Honolulu Department of Community Services operates the Aging and Disability Resource Center, www.elderlyaffairs.com, and the WorkHawaii Vocational Rehabilitation Employment Program, which helps to connect employers with job seekers with physical or cognitive disabilities and can be reached at 808-586-4805.  For more information about the Department of Community Services programs, please visit: www.honolulu.gov/dcs.