6-months ago, Victor Lea, Jr. required the use of a wheelchair to get around.  He was determined to walk again and worked tenaciously through his daily physical therapy.  He still has a ways to go; however, he has found that helping others is the best motivator towards his healing.  He is now helping his friend, Oliver Caberto, who also requires the use of a wheelchair.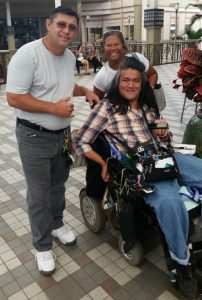 Maui, IL Specialist, Lani Cabanilla recently met with Victor and Oliver at the Queen Ka'ahumanu Center.  It was a refreshing sight to see these two friends helping and healing each other.
Hooray for Victor and Oliver!