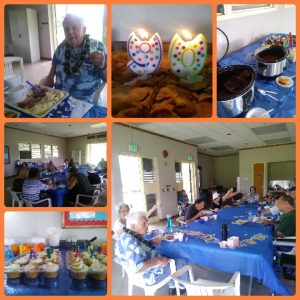 The East Hawaii Mixed Adult Support Group celebrated the 90th birthday of group member Arthur Lehmann. Everyone enjoyed themselves with Arthur's favorites, including swing music from the 40's (Glenn Miller Orchestra) and ono homemade food made by peers and staff like BBQ ribs, baked beans, coleslaw, potato salad, homemade apple cake, and fruits.
With the knowledge and wisdom of entering the 10th decade, each participant got to ask him a question. His secret to living a long life? Nourishing and kind parents.
Congratulations on this amazing milestone! We are wishing you all of life's best as you celebrate your 90th. May each year to come be filled with laughter, love, and happiness! Cheers, Arthur!